CELEBRATING 150 YEARS OF HISTORY
1900
In 1900, the population of Hinsdale is 2,578.

16 Mar–The first woman in the Chicago area to get a driver's license for a horseless carriage is Julia Bracken, a former resident of Hinsdale.

2 Sep–The cornerstone is set in place for the German Evangelical Lutheran Immanuel Church at the corner of Third & Grant.
1900
20 Jan–Loie Fuller (pictured), the famous Paris dancer and native Hinsdalean performs in her own pavilion at the Exposition Unverselle in Paris.
Animated with MyHeritage Deep Nostalgia.
White dress, c. 1900-1910.
Donated by Ruth Barnes, 2004.
White cotton with white embroidered flowers. The dress has a lace trim at the neck and 3/4 length sleeves. There are lace inserts in the skirt and a button-back closure. Originally owned by Isabel Robbins Knight, daughter of William Robbins and wife of William Hugh Knight who lived at 333 South Park. She was the second president of the Woman's Club from 1897-1901.
1901
1 Aug–Dr. Paul Rudorf buys out his partner, McGee, in their drug store at 33-37 S. Washington St. (Pictured here). McGee had previously operated his own drug store farther north at 49 S. Washington.
18 Oct–In the early morning, thieves drill into the Hinsdale Post Office safe and make off with $800.
1902
25 Apr–The Chicago Art Institute exhibits works of Hinsdale artist Mrs. J. C. Mohor.

7 Nov–Hinsdalean Linus C. Ruth is elected DuPage County Judge.
1 Dec–Hinsdale Waterworks completes its new boilers and 125 foot smokestack.
Minutes of the Fresh Air Association, 1898-1909.
The Fresh Air Association was one of Hinsdale's most successful philanthropies. The association provided women and children from Chicago's poor neighborhoods "a vacation in the country." The association was housed in the Marvin Fox home, which was at first loaned to the group and then became its permanent location. The home still stands at 32 W. Ogden Ave.
1903
6 Apr–Hinsdale President Deming H. Preston passes a permit allowing himself and other residents to buy a large quantity of squirrels to be set at liberty among the trees of the village.

8 May–Hinsdalean C. G. Dennison is found in the Niagara River under the Horseshoe Falls.
​
23 Jun–The new organ at Grace Church is dedicated.

30 Dec–Fire breaks out at Chicago's Iroquois Theatre. Though 12 Hinsdaleans escape the blaze, 600 other individuals die when they become trapped inside.
1904
The Village Board of Trustees approves the installation of 20 miles of new sidewalks at the price of $70,000.

The Doings reports that a Hinsdalean purchase 60 pairs of squirrels to help populate the furry species. Hinsdale later imports 24 grey squirrels from Colorado and 24 red fox squirrels from Texas after hot debates over whether the village would become a "Squirrel City" or a "Bird City."
​
Apr–Hinsdale Attorney Warren B. Wilson challenges the validity of the Spooner Canal Act and sues to enjoin the Secretary of the Treasury from paying money to the Panama Canal Company.
​
30 Sep–Steel Tycoon Andrew Carnegie writes a letter to his friend Dr. D. K. Pearsons praising Pearsons for his generous philanthropy.
1904
An old country estate is sold for $16,000 and is transformed into the Hinsdale Sanitarium by Dr. David Paulson and his wife, Dr. Mary Paulson, assisted by Charles Kimbell. The first patient is admitted a year later. In 1908, a new, larger sanitarium is built and by 1920, the facility treats 1,295 patients a year–later becoming Hinsdale Hospital.
Pictured here: The original home on the country estate that became the Hinsdale Sanitarium.

Park Hotel Register, 1905-1906.
Register from the Park Hotel, Hinsdale, from 1905 through 1906. The Park Hotel was built around 1868. Having several names and owners over its 42 years, it accommodated travelers and served as a temporary home to early settlers as they waited for their homes to be built. The hotel closed in 1911, after which it was cut into two sections and moved, both sections serving as single-family homes on 549 York Rd. and 46 S. Madison St.
1905
4 Feb–George B. Robbins, son of Hinsdale's founder William Robbins, appears before the Interstate Commerce Committee in his capacity as president of the Armour rail-car lines, to deny charges of monopolization.

1 Apr–Eight Western Suburbs form the Burlington Suburban baseball league with games to be played at sights along the tracks. Hinsdale's home team beats Downers Grove 5 to 1 at their first game.

13 May–Swedish Baptist Church, now known as Hinsdale Baptist Church, is founded. Services are not conducted in English until 29 years later.

1 Jun–To the relief of many, Sallie the Bear is sold to an Aurora man. Sallie had been kept in the back alley of Hinsdale's business district for the past year.
​
22 July–Hinsdale's Dr. J. B. Hench, who lives on the Northwest corner of Lincoln and Second Street, buys a modern X-Ray machine.
Animated with MyHeritage Deep Nostalgia.
1905
24 Jun–Construction of the Hinsdale Sanitarium is completed. The first guest, however, arrives a year before construction is finished. There are no stairs, so she arrives to her room via a dumbwaiter. Garden Club of Hinsdale member Mary Dynes designs the landscaping of the sanitarium. Plantings consist of hicks yew, cockspur hawthorn, wards yew, bigleaf wintercreeper, Japanese yew, cotoneaster, Alpine currant and many stands of floribunda roses.
1906
Sep–Hinsdale police make their first arrest using an automobile.
1907
9 Mar–Hinsdale Golf Club hosts the Western Open.
​
11 May–After seeing Gibson's work, the ladies of Grace Church pose for him in tableaus followed by a dinner at the church.
1 Jun–The post office begins free postal delivery in Hinsdale with Mr. Marwitz and Mr. Anderson serving as the first two postal carriers.
1908
Jan–After a fire caused the Hinsdale Public Library to relocate from the second floor of 33-37 S. Washington to the bank building at 101 S. Washington, the library's holdings are insured for $3,000.

16 May–The Hinsdale Electric Co. opens in the Froscher building at 6 E. Hinsdale Ave.
​
13 Dec–Clarence Darrow, made famous by the Scopes Monkey Trial, speaks at Unity Church.
1908
1 Jul–The sudden death of Judge Linus C. Ruth shocks Hinsdale. He was vice president of the Hinsdale State Bank and judge of the 16th Illinois Circuit Court.
​
After being admitted to the bar and setting up a successful law practice in Chicago, in 1884, Linus C. Ruth moved to Hinsdale. Beginning in 1890, Ruth served as the Village Attorney for Hinsdale and oversaw many improvements to the village. After serving as County Judge for a term, he was elected to the district's Circuit Court.
​
Animated with MyHeritage Deep Nostalgia.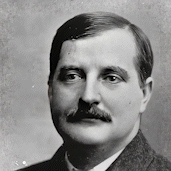 1909
29 Jan–Ditzler & Linsley's general store at 34-36 S. Washington St. burns during a blizzard causing $20,000 in damages and forcing the store to move across the street to 43 S. Washington St.
​
27 Mar–Hinsdale High School beats Washington to become state basketball champions.
Animated with MyHeritage Deep Nostalgia.
​
1 May–Hinsdale State Bank holds a groundbreaking ceremony just east of its old building at 101 S. Washington St. to add safety deposit bell on 29 August.

25 Jul–The Life Boat Rescue House, a refuge for wayward girls, holds its dedication ceremony. It offers refuge to unwed mothers and women from Chicago.
Athletic Patch, 1908-1909.
Donated by Mrs. Joseph R. Feldott, 1988.
Athletic patch used on the basketball jersey of the State Championship Team of 1908-1909. The Hinsdale High School team won the State Championship, making it Hinsdale High School's first sports team to win a state title
Hinsdale Central Basketball Uniform Shirt, c. 1908-1912
Donated by Helen Schmidt Carlson, 1984.
Basketball uniform shirt worn by Elmer M. Schmidt for the Hinsdale team.
1910
Oak Street Bridge is built as a foot bridge. It was widened 30 years later for cars.

10 Jan–Hinsdale acquires ownership of Exchange St. (Hinsdale Ave. between Vine and Washington) from the CB&Q Railroad on the stipulation that the road be paved immediately. With this move Hinsdale finally had a direct route to the west side of town.
23 Apr–Early Hinsdale merchant John Bohlander Sr. officially retires. During his many year he had sold groceries hardware, coal, lumber & feed, and his last store was located at 42 S. Washington St.
21 Nov–The Hinsdale Trust & Savings Bank opens for business becoming the second bank in Hinsdale's history.
1911
Hinsdale Township High School officially becomes the school district of Hinsdale.

10 Mar–The Hinsdale Dry Goods Co. (34-36 S. Washington St.) opens in the Fox Building, which was recently remodeled.
​
26 Aug–Philanthropist D. K. Pearsons donates his Hinsdale home and its contents (122 N. Grant St.) to the village to be used as a public library, art gallery, and park. Although the village accepts the offer, it sells the house instead.
11 Sep–An employee of the Suburban Ice Co. is arrested and fined after getting drunk "as a blind pig" and attacking his boss, Mr. Ruchty, with an ice pick.
​
14 Oct–A. E. Keith announces his plans to build a new auto garage on the Southwest corner of Washington Street and Chicago Avenue. He recently bought and tore down the nearby Park Hotel.

15 Nov–Early in the morning ex-village president John C. Hess is struck and killed by an eastbound cattle train.
1912
23 Mar–John F. Ruchty, the owner of an inn and icehouse in Fullersburg passes away.

17 Jun–Hinsdale's first Boy Scout troop organizes during a meeting at the Hinsdale Club.
​
Jul–A. E. Keith's garage opens.
1913
Vogue visits Loie Fuller at her home in France.
​
The Hinsdale Infant Welfare Society is formed.
​
20 Mar–The fire proof terra-cotta and brick Hinsdale Theatre (8 E. First St.) opens with a film of President Woodrow Wilson's inauguration as its first screening.
​
13 Oct–Hull House founder Jane Addams speaks at the Hinsdale Club house (26-32 E. First St.).
​
5 Dec–A fire at Sedgley Farm's main dairy causes $15,000 worth of damages (55th and County Line).
1914-1918: World War 1
askdfj;alskjd;flkjaa;lskdjf;laksdj;flkaj;sdlfkja
1914
12 Jan–Fire breaks out at Harry Giovannoni's Hinsdale Fruit Store (24 E. Hinsdale Ave.).

12 Jul–The cornerstone ceremony is held for the Zion Evangelical Lutheran Congregational Church.
​
Aug–The Camp Fire Girls found a chapter in Hinsdale.

Sep–Hinsdale women, among them a daughter of C. A. Brown, remain in Switzerland to knit clothes for the Swiss Army and to help defend against a possible German invasion.
​
5 Nov–The Hinsdale Club hears a stereopticon leacture entitled "Wartime in Europe" from Dr. Hammel.
​
7 Nov–An unattended steam roller rolls down Walnut, across Garfield, up a curb, and onto the lawn of W. C. Huntington. Fortunately the king-pin on the steam roller broke or it surely would have reached the house.

12 Dec–The world famous Sedgley Farm herd of 211 brown Swiss cattle (worth over $60,000) is quarantined with hoof and mouth disease.
1915
7 Jan–Sedgley Farm's 211 Brown Swiss Cattle quarantined with hoof and mouth disease are destroyed by government agents who bury them in a large ditch on the farm.

30 Mar–Charlie Chaplin appears at the Hinsdale Theatre (8 E. First St.).

18 May–The Hinsdale Theatre presents "The Tramp" staring Charlie Chaplin.

24 Jul–The Eastland Disaster results in the deaths of 835 Western Electric employees, including Mrs. W. L. Lunkens of Hinsdale, who drown when their boat capsized in the Chicago River during a company outing. Sedgley Farm owner E. M. Barton was President of Western Electric at the time.

7 Aug–Hinsdale's Paul Butler (230 E. First St.) plays an early polo match against a team from Wheaton.

19 Dec–Robert A. Childs passes away. He was Civil War veteran who took part in over 33 engagements including the Battle of Shiloh & Sherman's March to the Sea. Childs moved to Hinsdale in 1873. He worked as a school principal and attorney. Childs represented this district in the US Congress from 1893 to 1897.
1916
23 Jan–Heavy rains destroy the Salt Creek dam, which would remain in a state of disrepair for many years.
24 Mar–A volunteer company of 100 men is formed in Hinsdale, and arrangements are made to get rifles from the War Department.
26 Jun–Mrs. R. O. Schmidt hosts the first meeting of the Hinsdale chapter of the Red Cross at her home near the northeast corner of Garfield & First. Hinsdale Red Cross Society is organized by Nellie Schmidt. During their first meeting, 38 members join and begin work on making gauze pads and bandages to send to the American Red Cross. They disband in 1919, having organized $13,000 in aid for World War I soldiers. They reemerge in World War II.

6 Sep–Hinsdale puts up its first street signs, placing them both on electric light poles and on special iron poles installed throughout the village.
​
30 Sep–The oldest church in Hinsdale, the Congregational Church, is razed to make way for a new building. The cornerstone is placed on October 15.
​
15 Oct–Dr. David Paulson, founder and superintendent of the Hinsdale Sanitarium, passes away.
1917
Henry Buchholz and his brother open Hinsdale's first car dealership on the corner of Garfield and Hinsdale Avenues.
6 Jan–Workmen put the finishing touches on Hinsdale's new high school on Washington Street near the site of the present day Middle School.

7 Apr–Hinsdale members of Company D, 6th infantry division of the National Guard begin basic training at a secret location "somewhere in Illinois."

17 Apr–Hinsdale's Village Board approves annexation of the "Woodlands" (Between County Line Road & Western Springs).
1 Sep–J. C. F. Merrill, uncle of Doings founder Daniel Merrill, passes away at 66. He was an official at the Chicago Board of Trade, had advised President Hoover and Senator Chamberlain and helped to get the Food Control Bill passed by Congress.

9 Nov–Henry Ford arrives in Hinsdale during an unannounced visit to Alexander Legge (8 E. Third St.), then manager of the International Harvester Co. After paying a surprise visit to a local Ford dealership (40 E. Hinsdale Ave.), Mr. Ford drove out to Legge's farm. Both Ford and Legge were working with the government to encourage the production of war materials.
1918
27 Apr–Hinsdale aviator Hugh Dugan is shot down and captured while flying missions as part of the British Royal Flying Corps. After a period of German captivity he would return home to write Village on the County Line.
​
14 Oct–A fire at Natoma Farm (located near the Butler Homestead, north of Fullersburg Woods) destroys farm equipment worth $50,000.
​
12 Nov–At 3 a.m. news of the German surrender reaches Hinsdale and excited people wake their neighbors and celebrate in the streets.
​
21 Dec–The deadly Spanish Influenza epidemic reaches Hinsdale. All Christmas socials are canceled to stop the disease from spreading.

22 Dec–Hinsdale's Sgt. William Gliessmann (N. Vine St.) is assigned to the Honor Guard accompanying President Wilson to France for the signing of the peace treaty that will officially end World War I.
​
25 Dec–Alfred Elisha Walker passes away.
1919
1 Feb–Madame Coryell, an Allied spy, talks about her work with members of the Hinsdale Womans' Club.

12 Apr–To honor the brave men who died during World War I, Hinsdale plants a memorial tree at the recreational park (Burns Field on the site of the flagpole in front of the fieldhouse).

19 Apr–Hinsdalean Robert S. McCormick passes away. As a diplomat under Teddy Roosevelt he had opened Russia to the Associated Press in 1903.
1920
13 Jan–Hinsdale's first librarian, Flora N. Chapin Candee, passes away.

10 Apr–DuPage County gives women the right to vote in the Apr 13th G.O.P. Primary. Although Illinois lawmakers granted the right to vote to women seven years earlier, the privilege is to be decided before each election by each county's clerk.

15 May–Undertaker George Ruchty buys a new Buick ambulance.
​
15 May–H. C. Bucholz buys out his brother-in-law's grocery (13-15 W. First St.) to enlarge his own meat market, located next door, by using both stores at once.

4 Jun–Evernden's popular drug store (40 S. Washington St.) is sold to Arthur Strawn of Lake forest. William Evernden originally opened this store on the site of 43 S. Washington St. before relocating it across the street.

31 Aug–Hinsdale's Frank Foss wins a gold medal in pole vaulting at the 1920 Summer Olympics, while also breaking his own unofficial world record.
​
25 Dec–The construction of the Dieke building at 10 E. Hinsdale Ave. nears completion and will house the Dieke Electrical Store to the east and C. H. Papenhausen's tailor shop to the west.
1921
The Garden Club of Hinsdale is founded and includes a number of influential women. Mary Dynes is elected to serve on the statewide board and fellow resident Euclid Snow is editor of the club's national newsletter, Garden Glories, later, Glorious Gardens.

28 May–After a one and a half block chase, Hinsdalean Walter Schmidt helps capture notorious diamond thief Frank Nevels on the third floor of the Borland building on South La Salle Street in Chicago.
​
6 Jun–The proprietor of Hinsdale's first hardware store, John Bohlander, dies at the age of 85. Bohlander first moved to Hinsdale in 1871 where he opened a dry goods store.

10 Sep–Ira Claxton becomes Hinsdale's first motorcycle patrolman.
1922
21 Jan–The Hinsdale Cab Company, using yellow cabs like those in Chicago, opens at 44 S. Washington St.
​
4 Feb–Heman M. Fox, local capitalist and Civil War veteran passes away.

18 Feb–A group of young men from Hinsdale form Ruth Lake Country Club on the 160-acre Dixon farm in Southwest Hinsdale having used the lake on that property for skating, sailing, and hunting purposes for years. The Club is named after Sgt. Linus C. Ruth Jr., a prominent Hinsdale attorney who died in World War I.

25 Mar–The new Hinsdale Township High School gymnasium is dedicated.

22 Apr–Simon Heinemann passes away. A Southern merchant and Union blockade runner during the Civil War, Heinemann ran a store in Hinsdale from 1886-1892.
​
26 Apr–A. C. Benson, developer of the American Beauty Rose at the Basset & Washburn Greenhouses, passes away.
​
10 Jun–Alexander Legge (8 E. Third St.) becomes president of the International Harvester Company.
​
22 Jul–The Mayslake Hunt Club is formed, leasing the S. A. Tousey Farm on Ogden just west of Hinsdale.
​
27 Sep–Newell Beatty and Harold Rossman return to Hinsdale after traveling across the country in a used Ford automobile.
1923
Hinsdale celebrates its Golden Anniversary with a party in the high school gymnasium.

10 Apr–Hinsdaleans vote 247 to 16 to successfully annex Fullersburg.
1924
Alexander Legge, former President of International Harvester, establishes Katherine Legge Memorial Park & Lodge to be used as a retreat devoted to rest, recreation and welfare for women employed at International Harvester. A lodge, designed by R. Harold Zook, was built on the property in 1927. Today, now known as K.L.M. Park, the property is also home to the Zook Home and Studio, which was saved from demolition by the Hinsdale Historical Society.
​
The Hinsdale Chamber of Commerce opens.
​
12 Jan–Bronswood Cemetery greenhouse attendant Joseph Clause is robbed at knife point by a thief who forces him to write out a check for $200.

22 Jan–Clarendon Hills is incorporated as a village.
​
16 Feb–Hinsdale holds its first ice carnival at Burns Field.

26 Jul–Golf pro Chick Evans, eight time winner of the Western Golf Tournament, is defeated by Jimmie Marion at the Hinsdale Golf Club.

31 Jul–Ground is broken for the construction of Madison Grammar School at 601 S. Madison St.
​
16 Aug–Construction on the new Hinsdale municipal water plant begins. On its completion, the water plant is the largest water softening plant of its kind in Illinois.

4 Oct–The owner of the Douglas Riding Academy, Julia Douglass, is shot and killed by a jilted suitor who is quickly apprehended.

20 Dec–William Soltwisch & Sons pour the foundation for the brick home and studio of architect R. Harold Zook on the northeast corner of Third and Oak Streets.